Ruden battles back from a brain injury suffered in a bike accident.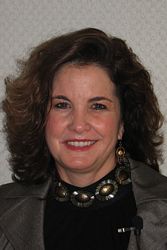 Photo by: TH: Erik Hogstrom
Bridgid Ruden, of Iowa City, is a Dubuque native nurse practicioner who is recovering from a serious brain injury.
The May 2008 bike accident threw Bridgid Ruden 30 feet and into an ordeal from which she continues to emerge.
Training for the Quad Cities Triathlon, Ruden pedaled down a hill when she slid into mud and water. The impact from the accident cracked her bike helmet and seriously injured her brain.
"I was in and out of consciousness and I had blood coming from my right ear and nose," said Ruden, an Iowa City nurse practitioner and Dubuque native.
Ruden discussed her continuing recovery from a serious brain injury during a presentation Friday at The Finley Hospital. The bike accident caused a number of injuries, including a fractured skull, brain bleeding, bruising and a fractured vertebra.
The daughter of Dubuque's Donald and Jeananne Freymann, Ruden spent eight days in a coma and a full month hospitalized at the University of Iowa. Doctors surgically removed the left bone flap of her skull to relieve the pressure of swelling.
It was at the University of Iowa that Ruden developed an abscessed bacterial infection that nearly killed her. An MRI image taken at the time showed Ruden's swollen brain bulging out of the left side of her head. "I can't
tell you how many doctors have told me:'Bridgid, you are a miracle,' " she said.
Doctors replaced a missing skull flap with a titanium plate in August 2008 -- Ruden's fourth surgery following the accident.
Ruden began an arduous recovery, involving physical, occupational and speech therapy and Eastern medical approaches. She battled vertigo and a pair of grand mal seizures. "This is a woman I call a living miracle," said one of Ruden's friends, Patrick Sterenchuk, of Dubuque.
Ruden faced the challenges of post-traumatic stress disorder, too, dealing with depression and anxiety. She endured memory problems and continues to overcome aphasia -- an injury-related communication impairment that affects the ability to speak, understand, read and write. "Never would I wish this to happen to anyone," Ruden said.
Ruden's recovery involves a diet rich in "brain healthy" foods -- including dark green leafy vegetables and fish -- therapy sessions, chiropractic care, exercise, Reiki (an ancient Japanese healing practice) and dance.